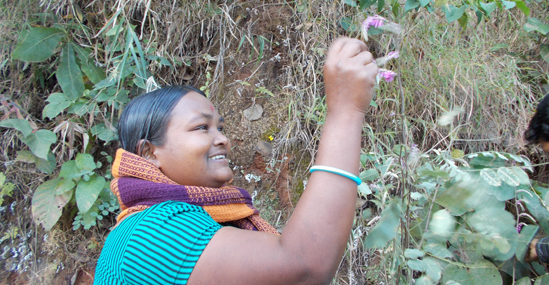 Dr. Pragya Shukla
pragya.shukla@cuj.ac.in
The poems of Sushma Asur are conversational, motivational and agragarian. She pens down prophetic words, telling her people the way to live and work. The images, ideas and values put forward by her are akin to culture's antibodies that are intended to protect her people. She attempts to transform the bitterness of earthly life into something redemptive and soothing.
While reading this tribal poet's verse Ploughing, words of David Orr comes to mind:
…Agrarianism…is no small, whittled down philosophy for rural folks. It is, rather, a full blown philosophy rooted in the realities of soil and nature as 'the standard' by which we also come to judge more. It is grounded in farming but is larger still. The logic of agrarianism…unfolds like a fractal through the divisions and incoherence of the modern world. ()
In the poem, Ploughing, the poetess urges the farmers to shrug off indolence and commence work. She points out that the fruits of hard work will bring immense satisfaction:
…Jab khet mein hal chaloge
Tab dhan bowoge…
If you plough your fields
You will sow seeds
Or else wild grass will grow
Green grass will tempt goats, cows and bulls in your field
If you plough you plough your field
You will sow seeds
If you plough your fields
Each day for twelve months
You will cultivate rice crops
Rice saplings will keep wild grass from growing
Rich harvest will flourish in your fields
If you plough your fields
You will reap a rich harvest
Rivers from high mountains will come down
To inspect and appreciate your efforts
Birds will sit around your fields and sing
If you plough your fields
You have rice to eat
Or else spiders will spin webs in your store-rooms
If you plough your fields
You will real a rich harvest… (Facebook)
The poetess points out that an unploughed field will soon be covered with lush green grass that will invite goats and other grass eating animals then. Working in the fields' day in and day out will reap a rich harvest. Birds from far off lands will fly in so as to appreciate and admire the labours of a farmer. Hard work will keep the household well provided for. A good harvest will fill up the granaries too or else they would be transformed into a colony for insects. Harvest birds will flock to the abode of hard-working farmers. The poet instils hope in the minds of her group members who often submit in the embrace of lethargy and lose interest in work.
Cooking, milking, churning, ploughing, sowing are all a sort of folk art for the tillers of the land. They work and then rejoice. All activities of a farmer's life endow it a sense of process and variation in keeping tune with nature.
In another poem, Wake Up Son, the poetess depict a day in the life of a farmer during rice harvest. A man wakes his son up early in the morning and asks him to get ready for work. He instructs his son to wake up before sunrise and head for the fields before sunrise. They would lead the bulls to the fields and proceed with the threshing of grains. The entire process of procuring rice grains from the dried and cut rice grass has been described. As the elderly manages his son to rise, he relates that his mother will come to the fields with food. All normal humdrum activities in the life of a common farmer has been dwelled upon, the pastoral picture has been painted with a magical brush.
We shall live on Fearless like the plateau
In this plateau region you
Gave birth to us (the Asurs)
But never showed us the way to live
In this plateau region, you
Turned us into working class
But never gave us money to go to school
Never showed us the way to move on
We have no language of our own
No culture of our own
How do we address you
How do we remember you
Oh ancestors of the earth and sky
O Parents and ancestors
Forests gave you food to eat
You worked in your fields
The entire plateau region was your school
Hills and waterfalls showed you the path
O ancestors of the earth and sky
O Parents and all our ancestors'
You never knew about money
You never knew about dependence
We do not blame you
We would never seek your help
We would not take refuge of the judiciary
But when commercial companies come barging in
And the Government lashes atrocities
We seek your solace and company
O ancestors of Earth & Sky
O Parents and our ancestors
We will learn to speak like you
We will learn to dance like you
We will learn to hunt like you
All those animals
Those who shake the foundation of Asur households
Those who are misleading our waterfalls
Those who have the habit of gobbling Earth and humanity
We will learn to live like you
Content and innocent like the plateau
In this region created by you ( Facebook)
In this poem, Sushma Asur addressed her ancestors complainingly. Her words reflect her deep love for her rich cultural past. She fondly dwells upon the innocence and purity of the bygone era when Nature was the universal teacher and the green fields the sole workplace. Her ancestors didn't have to worry about money. But the present generation has to struggle for existence. They are exploited by the greedy commercial companies who are eager to excavate all treasures that these tribals had preserved so devoutly. In their efforts, they will not mind spoiling the entire topography of the land held sacred by them for so long. The government usually turns a blind eye to the protests of the members of this group. In these moments of agony, the poetess turns to seek solace in the arms of her beloved ancestors. She also assures them that life for the present generation will continue. They will not give up under the present difficult times.
Selected part of Pragya Shukla's "Writings of Sushma Asur", South Asian Journal of Multidisciplinary Studies Volume II, Issue IV, ISSN 2349-7858. (https://www.academia.edu/17111750/Sushma_Asur_and_her_writings)
---
Please Share and Support