Ranchi Institute of Neuro-Psychiatry and Allied Sciences (RINPAS) turned 100 years old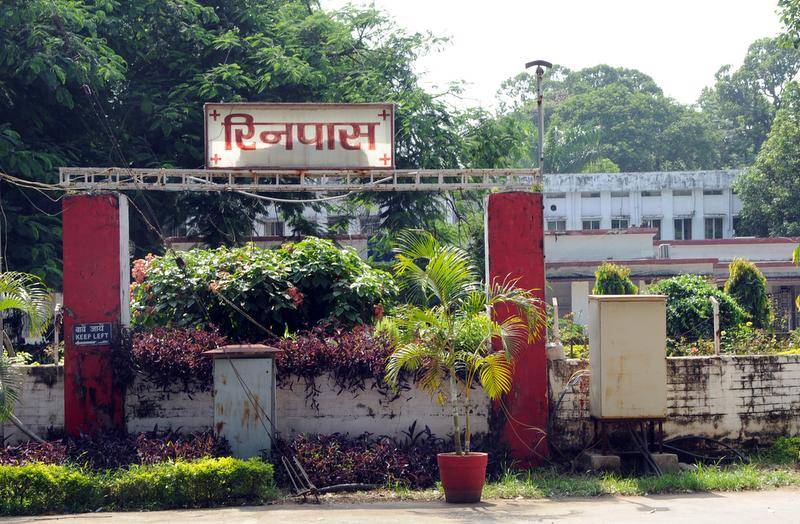 The Ranchi lunatic asylum of Kanke (RINPAS), located in the capital of Jharkhand, has entered the 100th year of its establishment this May. It was established on 17 May 1918 for the mad British soldiers and Anglo-Indians of the First World War. Superintendent J. In 1925, on the initiative of E. Dhanjibhai, Indian madmen also got a place in it. Due to special medical practice and many reasons, it has been a unique lunatic asylum of its kind and the only mental college affiliated with the University of London, not only in Asia but in the whole world. Where along with the treatment of madmen, the degree of 'mad doctor' was also available. He used to play crazy plays of Ranchi lunatic asylum, used to play football, hockey, gave song and music program. Used to shop in the market, go for picnics and enjoy circus-magic, theatre. He used to read more than 10 newspapers regularly in languages ​​like Hindi, English, Odia, Bangla etc. The most important thing is that in this lunatic asylum, which was established among the Adivasis, not a single Adivasi patient was admitted here in British and independent India for a long time. Many wouldn't even believe that the crazy champions here were great sportsmen, amazing entertainers and great learners. They are all a popular singer-composer, elegant audience-viewer and a great fans of films.
Ranchi's popularity is as old as the Indian history of British rule. It came into existence as the 28th state on 15 November 2000, but its present capital Ranchi has been the main center of British administration since 1834. Ranchi used to be the most favorite city of the British after Kolkata during the colonial period. Ranchi was the official second capital even when Bihar, Bengal and Orissa were joint Province and when Bihar was undivided. It was an attractive 'hill station' whose popularity extended to London due to its picturesque natural environment and pleasant weather. Not just because it is a unique region with unique natural beauty, resources like coal-iron and Adivasi culture. But also because there is a world-famous lunatic asylum in Ranchi. The 'Central Institute of Psychiatry' located in Kanke, just 12 km from the capital, is a hundred years old and one of the most prestigious mental asylums and psychiatric institutions in the world.
The history of psychopaths and asylums in India is as ancient as its civilization and culture. The description of psychopaths has come in the literature of the Buddhist period (400-200 BC) and in Atharvaveda, Yajurveda, Charaka and Sushruta Samhita. According to 'Medicine: An Illustrated History' (1997), there used to be a separate hospital for psychiatric patients during Ashoka's time. But according to Monier-Williams, there is a clear mention of the madman in the Brahmavaivarta Purana – 'Parakshanam, Tasmat Galati Vichyuto Bhavati'. Parakshanam = Pa means to protect. Tasmat galati (vichyuto bhavati) means 'one who is disconnected from that' i.e. one who is not capable of doing protection. Despite this, till the Mughal period, we do not get any specific information about the psychiatric institutions in India and the medical institutions established for their treatment. In 1222 AD, there is a mention of a psychiatrist named Najbuddin Ummad. It was a Greek physician who described seven types of psychosis in detail. After this, during the time of Muhammad Khilji (1436-1469), we find the account of another doctor of the madmen, Maulana Fazulur Hakim, who was working in the madhouse of Dhar in Madhya Pradesh. A Sufi named Shahdaula (1581–1675) in the city of Punjab and Gujarat in undivided India is also given by historians to be a human physician. Those who raised and took care of children with disorders and psychopaths. These children were called 'Shahdaula's Rats'.
In fact, the concept of the modern asylum is entirely a product of British colonialism and war. The first insane asylum for the mentally ill was opened in Mumbai in 1745 and 42 years later in Kolkata in 1787. In 1793 a private psychiatric hospital was established in Madras. But the first government madhouse was built on 17 April 1795 in Munger, Bihar. People used to call this psychiatric hospital located on Shyamaldas Chakraborty Road as 'Pagal Ghar'. Bihar's second madhouse opened in 1821 at Patna. There was no significant progress in the condition of asylums until 1855 except in some other large cities including Mumbai, Kolkata and Chennai. But after the mass Santal Hul of 1855 and the freedom struggle of 1857, a big change took place. In 1858, the British made the first 'Insanity Act' (Act No. 36) which was amended by a committee constituted in 1888. After this, new asylums were built in many cities of British India.
After the First World War, the number of insane soldiers increased exponentially, and the truly insane asylums progressed to become psychiatric hospitals. The Indian Insanity Act was passed in 1912. Under this, the first psychiatric hospital for British soldiers was established in Bhawanipur, Bengal. But in 1918, it was closed and a new madhouse was opened in Kanke, Ranchi, which became famous all over the world due to its special medical practice within the next few years. Ranchi madhouse set many records in the history of Indian psychiatry and played a leading role in ensuring the medical system, social care and human rights of the insane, setting epoch-making medical trends. Due to the new medical technology and human vision of the first superintendent of Ranchi Pagalkhana, Colonel Owen AR Berkeley-Hill, the policy of the government changed later and from 1920, officially the lunatic asylum got the status of hospital.
Ranchi Pagalkhana was a new experiment in the field of psychiatry. Here the lunatic was not treated like a 'mad' but like a normal patient. For this, this institute used many such medical methods which were not done before. In addition, the psychopaths were given a complete family and social environment. Many creative activities like sports, music, art, literature, drama-theatre were made the medium of healing. They were provided maximum opportunities for entertainment and normal routine. The concept of rehabilitation of mentally ill patients was first conceptualized here. It is pertinent to note that unlike other mental hospitals, the Ranchi insane asylum has never been a prison for psychiatric patients. Here the lunatics were not kept imprisoned in bars, chains, ropes etc. It has always been an open hospital with a comprehensive psycho-social approach for the management of mentally ill patients.
The result of this is that the madmen here, who were considered to be 'crazy' and 'psychiatry', were masters in all sports. The annual report of Ranchi Institute of Psychiatry from 1930 to 1940 states that the mad players here defeated all the sports clubs of Ranchi between 1925-29. Not only defeated but he became the champion by winning all the tournament matches of football and hockey. More than 10 newspapers in various Indian languages ​​including English used to visit this madhouse regularly. This was the only madhouse in British India, which had a very good and large library where the educated lunatics would spend day and night engrossed in world literature. In 1940, during just one year, 58 films in Hindi, English and Bengali were seen by the pagans here. The Institute had its own Cinema Projector, Trained Operators and Cinema Hall in the premises. The film was shown for the first time on 29 March 1933 with a projector brought from Mumbai. It is also noteworthy that it was the only psychiatric medical educational institution in British India affiliated to the University of London. In 1922, this institute awarded a postgraduate degree in 'Diploma in Psychological Medicine'. Then there was no postgraduate study in any subject of any university in India. Dr. LP Verma who is India's first 'Pagal Doctor' (Postgraduate Psychiatrist) is a product of this institute. When Captain JE Dhanjibhai became its superintendent in 1925, it was for the first time that Indian psychopaths got admission in this madhouse and separate wards were made for female psychopaths.
It is also worth noting that earlier laws for the care of mentally ill people such as the Indian Insanity Act, 1858 and the Indian Insanity Act, 1912 neglected the human rights aspect and considered only patients admitted to the mental asylum. had gone. After independence, it took 31 years to make the first law in this regard and 9 years after that the Mental Health Act, 1987 came into existence. The 1987 Act was based on a draft that was written in 1949 by Dr. Devis of the Ranchi Institute of Psychiatry. But this Act was never implemented in any state and union territory.
Two years ago, almost three decades later, on October 10, 2014, the country's first mental health policy was announced by the Union Health Ministry. Inaugurating it, the Union Health Minister Dr. Harsh Vardhan said- 'This is an opportunity to increase awareness on mental illness and its related misconceptions. We want a nation that supports the human rights of the mentally ill. Also, this opportunity is to create awareness against blaming mentally ill persons and to clarify the symptoms and provide remedial facilities to persons suffering from depression, schizophrenia, bi polar syndrome etc. Dr Harsh Vardhan, in his statement, believed that 'the correlation between mental illness and poverty is clear, according to which the mentally disabled are at the lowest level. It warns us that this could become a health crisis that will have a negative impact on society." In reference to the new mental health policy, he said, "I have ensured that it becomes an integral part of our value system which is participatory and Meet the standards of human rights. We have also taken care that this service should also be provided to the poor and marginalized sections. It is worth noting that according to the World Health Organization, by the year 2020, about 20 percent of India's population is suffering from some kind of mental illness. Will be At present, there are only 3500 psychiatrists in the country. Therefore, the government will have to deal with the problem of bridging this gap substantially in the next decade. In the changing political and economic-cultural scenario, Indian society is going through many mental crises. The Central Institute of Psychiatry, Ranchi, with its glorious history and experience, can play an effective role in getting the solution from this. It has always proved its excellence in the psychiatry world of India and the world. It is, therefore, necessary that its contribution at centennial is properly assessed and further equipped with human and technical resources.
First time appear in Hindi weekly 'Adivasi', Issue 107, June 2017
---
Please Share and Support